Pure for Men Stay Ready 60 Fiber Capsules
Vegan fiber pills to stay clean and ready
Looking to upgrade your sexual wellness routine? These fiber capsules support healthy digestion while making prep time quick and easy. Take daily to help remove excess waste so you can bottom with confidence. Pure for Men Stay Ready is the original vegan cleanliness dietary supplement made with a proprietary blend of Chia, Flaxseed, Aloe, and Psyllium husk. 60 capsules. Detailed description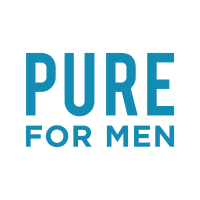 Worldwide
Express Delivery
Description
Pure for Men Stay Ready Fiber Capsules can help support healthy digestion, weight management, promote heart health, help aid hangovers, and make prep time easy. The Stay Ready fiber is a vegan, 100 % natural, proprietary blend of digestive aids: Psyllium husk, Aloe Vera extract, Chia seeds and Flaxseed.
Why take the Stay Ready fiber?
Easy prep time – Get it out to get it in! When your time on the toilet is easy, smooth, and clean, it's quick and effortless to get ready for playtime – and you won't feel bloated. There's confidence in that.
Helps with hangovers – The absorptive qualities of the soluble fiber work well to counteract the hangover effect of alcohol. Fiber "soaks up" excess alcohol, which helps with nasty morning hangovers!
Weight management – Trying to eat a little less? Take this premium fiber about 30 minutes before meals – it expands in your stomach and provides you with a "full" feeling. This effect aids in eating smaller meals, and thus, shedding unwanted pounds!
Heart health – Protect your heart! Research shows that soluble fiber can help lower cholesterol levels. Moreover, numerous studies have also shown both soluble and insoluble fibers help lower the risk of heart disease.
Proprietary Vegan Blend
Psyllium husk can help strengthen heart muscle and support a healthy digestive system.
Aloe Vera as a digestive aid reduces inflammation in the gut and soothes the elimination process.
Chia seeds are among the most nutritious foods, loaded with protein, antioxidants, Omega-3 fatty acids and fiber.
Flaxseed carries many healthy components, but its primary health benefits include Omega-3 essential fatty acids, lignans and fiber.
Pure for Men Stay Ready 60 Capsules
Dietary supplement in capsules.
Ingredients: Psyllium Husk Powder, Aloe Vera Leaf Extract, Black Chia Seed Powder, Flaxseed Powder, Vegetable Cellulose, Vegetable Magnesium Stearate, Silicon Dioxide, Rice Flour.
Weight: 53.5 g
The package contains 10 daily doses.
The capsules are to be taken twice a day, 2–3 capsules in the morning and at night with 500 ml of water.
Reviews
Parameters
| | |
| --- | --- |
| Brand | Pure for Men |
| Original name | Pure for Men Stay Ready 60 Fiber Capsules |
| Weight (g) | 76 |
Listed In

We know the products we sell. Do you need help?
Chat with us from Monday to Saturday 9:00 to 19:00 (CET) or leave a message anytime.
Start Chat